Why Do You Need Dryer Duct Cleaning?
A dryer is one of the most essential appliances in the homes. There is no week when you do not do laundry specially if you have kids.
However, most people are not aware that dryers can be the cause of fire hazards in their homes. As per the records of Fire Administration in the United States, 2,900 home fires are reported annually, and most of them are caused by dryers.
Did you know that one of the main reasons for harmful gas emissions in your house is a clogged dryer?
A dryer with a blocked duct discharges carbon monoxide, which is one of the harmful gasses that can cause death.
However, you prevent your home from fire and yourself from health hazards by regular dryer duct cleaning. It helps to unblock the dryer duct and stops the build-up of carbon monoxide.
A clogged dryer duct also allows the dryer to work harder to dry the clothing. This means that the appliance will begin to wear and tear, increasing maintenance costs, and ultimately failing to serve its purpose.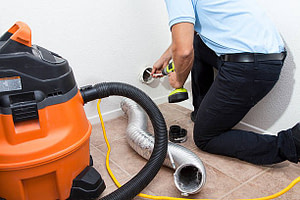 Not only that, but it also affects the quality of your clothes because each time the dryer works harder than normal, it causes considerable damage to the fibers of clothing.
In the long run, clothes which are regularly dried by an inefficient dryer damage quickly. Even though some clothes that have been made with the endurance to overcome dryer stress, there is no proof that they will not wear in the long term.
Therefore, the best way is to hire a dryer duct cleaning service is because it helps to prevent the damage of your appliance and clothes as well as enhances its lifespan.
Nobody wishes to be in the market again looking for a new dryer just a few months after buying a new one. Hiring dryer vent cleaning professionals will extend dryer life and save you some bucks.
It's easy to get the dryer ducts cleaned. what you need to do is reach out to your nearest dryer duct cleaning service.
We at Pacific Air deal with the service of dryer duct cleaning. All you are required to do is ring us a call to request a quote and arrange a time to get the cleaning completed.
This also enables you to free up more of your own time because you don't have to clean up yourself.
We will also assure you that everything is done properly and that no dangerous dust and lint are missed. You should have the dryer ducts cleaned at least once a year to avoid wear and tear of your appliance or worse a fire in your house.
We have a professional team to provide you high-quality service at affordable rates.